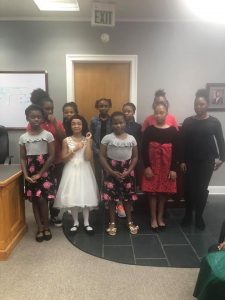 Last night's City Council meeting was infiltrated by a group other than community members who wanted to weigh in on the night's agenda. To highlight Black history month, a group of students from Pointe Coupee Parish – Rosenwald Elementary demonstrated the excellence of African Americans who inspired history. Mayor Cornell Dukes invited the students to take part in the observance.
Students paid homage to the legacy of influential African Americans by embodying individuals who made a difference in the advancement of black history and told facts about that person.
After paying tribute to historic figures, the students joined in to sing a beautiful rendition of Whitney Houston's "Who Would Imagine A King" and Mary Mary's "I Just Can't Give Up Now".
GREAT JOB!!!!