New Roads, LA.- On behalf of the City of New Roads, we want to thank you for helping to make this year's Lundi & Mardi Gras events a success. Mardi Gras in the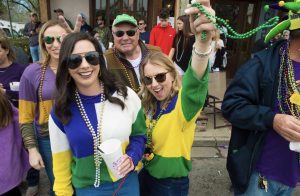 City of New Roads drew the biggest crowd ever recorded on record.
We would like to thank the community for supporting the Queens and their courts during the 2nd annual Lundi Gras Toast. We would also like to send a BIG thank you to the Community Center of Pointe Coupee Parade and New Roads Lions Club Parade organizers and krewe for attracting tens of thousands of parade-goers to our beautiful city.
To the City of New Roads Police, we truly appreciate your commitment to our city and making safety a priority for all in attendance. Mardi Gras in New Roads is a huge event and it wouldn't be possible without you and the assistance of the Public Works department, Louisiana Work release inmates, and countless people who help prepare ahead of time, work during the event itself, and clean up afterwards. The day ran smoothly, visitors stayed for extended periods of time and seemed to enjoy themselves.
We're already planning to make 2021 a bigger and better carnival year. We truly appreciate your support!